Here's the Skinny on FSC Ranch Beef's Skirt Steaks!
Skirt steak comes from right under the rib in the plate section of beef. It's a thin and flavorful cut of meat. Sometimes, a Skirt steak will come rolled up in its package. Other times, it is long and thin. You will want to unroll your steak before cooking if it is packaged rolled.
The best way to cook a Skirt steak is to first marinate and then sear it over a high heat. It won't take long to cook at all. I'm talking 3 minutes on each side in a skillet, or 8 minutes in an oven at 350º F. So, this steak's cooking time is short like a mini from the '60s! In fact, if you cook it too long it will end up tough.
You will want to slice your Skirt steak against the grain.
We've got Skirt steaks at the ranch that range from $3.86 to $45.17. Check them out HERE, or stop by the ranch and pick a few up.
Here is a recipe to try with your Skirts from Beef It's What's for Dinner!
Orange-Chipotle Skirt
INGREDIENTS:
1-1/2 pounds FSC Ranch Skirt steak, cut into 4 to 6-inch pieces
2 medium oranges, divided
2 cups chopped tomatillos (4 to 5 small to medium)
1/2 cup chopped red onion
2 to 3 teaspoons minced chipotle peppers in adobo sauce
1/4 teaspoon ground cumin
1/8 teaspoon salt
Marinade:
Juice of 1 medium orange
2 tablespoons vegetable oil
2 tablespoons adobo sauce (from chipotle peppers)
1 teaspoon ground cumin
1/4 teaspoon ground black pepper
COOKING:
Combine Marinade ingredients in small bowl. Place Skirt steaks in food-safe plastic bag; turn steaks to coat. Close bag securely and marinate in refrigerator 6 hours or overnight.
Grate 1/2 teaspoon peel from 1 orange. Cut 1 orange (that you didn't use for the marinade) into segments. Chop segments into 1/2-inch pieces. Combine orange peel and segments, tomatillos, onion, chipotle peppers, cumin and salt in medium bowl; cover and refrigerate until ready to serve. Cut remaining 1/2 orange into wedges; reserve for garnish.
Remove steaks from marinade; discard marinade. Place steaks on a skillet over medium-high heat. Cook for 3 minutes, turn, cook for 3 more minutes, let sit for 5 minutes. Carve steaks diagonally across the grain into thin slices; season with salt, as desired. Serve with tomatillo salsa. Garnish with reserved orange wedges.
Got any favorite Skirt recipes? We'd love to see them, so please send your recipes my way: Laurie.Bishop@FredSmithCompany.com.
Get your FSC Ranch Free hat for Super Bowl Sunday with our Super Bowl Special.
Order your Valentine's Day Special NOW, and pick it up later this week. You're going to love it!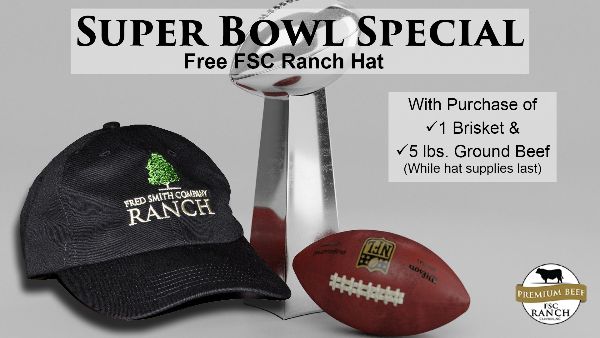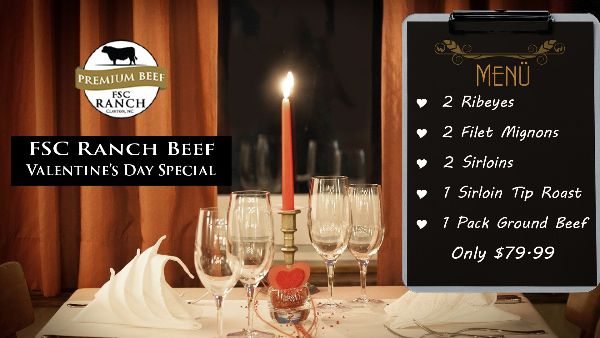 We are open Monday – Friday from 8 AM – 6 PM.
See You at the Ranch,

Laurie Bishop
FSC Ranch Beef
2102 Pritchard Rd.
Clayton, NC 27527
919-588-2091
Our Beef is Antibiotic-Free, No Added Hormones, Pasture-Raised, USDA Inspected and Approved!