919-550-3232
Building the Way to Active Families
10,000 square feet of fitness space, 3 outdoor pools, 67 ft waterslide and 1 indoor, 6 lane 25 yard competition-sized pool and wading pool.
Still want more reasons to join Fred Smith Company Sports Club? Easy. High-quality fitness equipment, spraygrounds, playgrounds, walking trails, sports leagues, gymnasiums…
In addition to our impressive facilities, we also offer a wide variety of membership options. Three, to be exact. And that's not to mention that your membership entitles you to enjoy any of our Sports Club facilities—giving you access to multiple premier fitness centers. And that adds up to a deal you don't want to miss.
The club is located near the corner of Pritchard and Covered Bridge Roads in Clayton.
Club Hours:
Monday-Thursday: 5:30 AM – 9:00PM
Friday: 5:30AM-8:00PM
Saturday: 7:00 AM – 7:00 PM
Sunday: 12:30 PM – 7:00 PM
Nursery Hours:
Mornings:
Mondays & Thursdays 10:45AM – 12:45 PM
Tues., Wed., Fri. & Sat. 9AM – 11:15 PM
Evenings:
Monday – Thursday 5:45 PM – 8:00PM
Riverwood Aquatics
Dive and Slide, Dip and Drip
Big splashes, little splashes and everything in between. With its three outdoor pools—recreational, event and children's—and indoor competition pool, Riverwood offers a little something for everyone. From the lap swimmer to the recreational swimmer right down to the cautious child just dipping their toe in, everyone can enjoy Riverwood's aquatic offerings.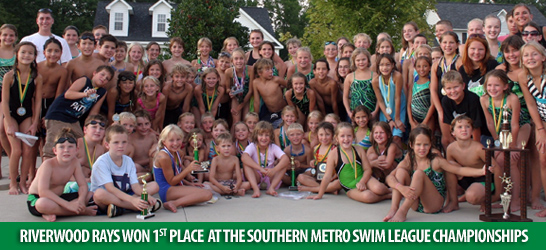 Outdoor Recreational Pool
Kids sprayground with a depth of 2.5 feet, which makes it perfect for young children
67 foot waterslide
Cabana with restrooms, showers, shaded tables and ceiling fans
Large sun deck
Security check-in and lifeguards for your safety
Outdoor Event/Lap Pool
1 meter diving board
4 lane pool
Basketball hoop
Children's Pool
Large fenced-in wading pool for our youngest non-swimmers
Indoor Competition Pool
6-lane x 25-yard pool
8 foot maximum depth
Lap swimming
We also offer Professional Aquatics Programs such as:
Summer swim team & year-round USS swim team
Swim lessons
Water aerobics
Masters swim team
High school swim teams
Click here for more information.
We offer swim lessons to members and non-members
Note: Private Lessons – for any age are given. This offer is designed to work on strokes, starts, turns, and comfort levels.