New this week: The Ribeye Ranch Special
This cold rainy weather has kept many of us indoors. I don't know about you, but I've been binge watching a lot of shows on Netflix. The one I'm currently binging is Heartland. It concerns a horse and cattle ranch in Alberta, Canada. My 82 year-old Mom watches with me nearly every night, and when Caleb races his horse out of the shoot to rope the bucking steer, I say to my Mom, "Wow, that was my entire day at work."

Mom usually looks at me out of the corner of her eye probably wondering if I'm serious or not.

Truth be known, I'm not roping steers while riding a super fast horse during the day at FSC Ranch (Let's let that be our little secret, though.), but I have put together a great Ribeye Ranch Special for all of us Cowboys (and Cowgirls, of course). It's got some good sized Ribeyes that look delicious. The Flat Irons, which are lean steaks, will grill up nicely in your skillet for fajitas or to use on top of your salad. The Stew Beef and Ground Beef always work well for Shepard's Pie, Soups and Stews, and the Rump Roast will rest perfectly in your crockpot to fill your home with the comforting smell of premium, antibiotic-free, pasture-raised beef.

Supplies are limited, so order yours today!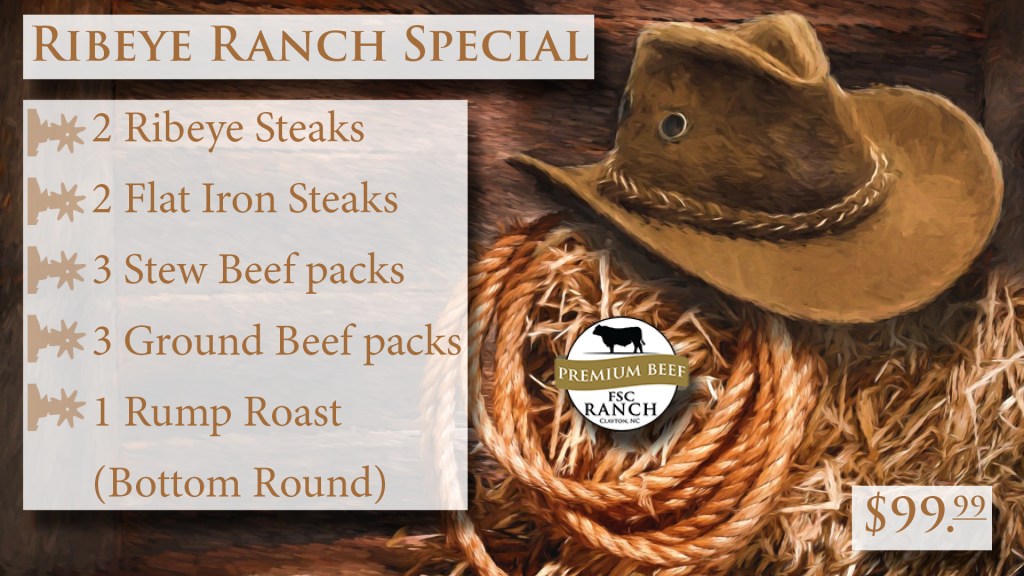 Interested in purchasing 1/2 an animal, but don't have the freezer space?
Want to have the security of having a set amount of beef to feed your family?
Check out our new Subscription Service, and let us hear what you think because we care about what you have to say!
Order Online HERE, or stop by the ranch!
We are open Monday – Friday from 8 AM – 6 PM.
See You at the Ranch,

Laurie Bishop
FSC Ranch Beef
2102 Pritchard Rd.
Clayton, NC 27527
919-588-2091
Laurie.Bishop@FredSmithCompany.com
Our Beef is Antibiotic-Free, No Added Hormones, Pasture-Raised, USDA Inspected and Approved!