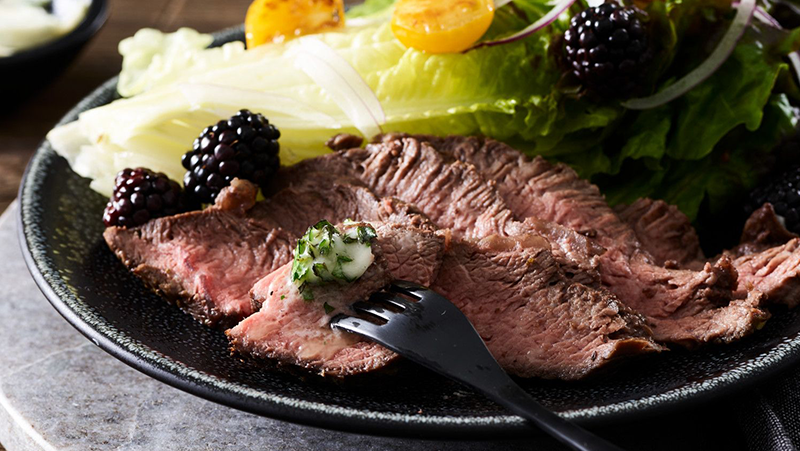 Flat Irons are the second most tender cut of beef.
If cuts of beef were golfers, a Flat Iron would be say Will Zalatoris.
Second might not be first, but this year Zalatoris won over 1.2 million dollars in the Masters and was only one shot behind the winner Matsuyama (who would, of course, be a Filet Mignon if beef were golfers), so second isn't something to ignore.
Our FSC Ranch Beef Flat Irons are tender and priced affordably.
I'm including a recipe that uses a smoker and requires ghee. If you've never tried ghee before, I'd like to suggest that you do. Ghee is clarified butter that someone once told me is like liquid gold for your brain. I keep a jar by my stove top (You don't need to refrigerate it, by the way.). You can pick up a jar at your local grocery store.
So grab your smoker along with your FSC Ranch Beef incredibly tender Flat Irons, and give this recipe from Beef It's What's For Dinner a try!
Let me know how it turns out!
INGREDIENTS:
FSC Ranch Beef Flat Iron Steaks (about 1-1/2 pounds)
~1/2 teaspoon salt
~1/2 teaspoon freshly ground black pepper
Marinade:
~2 tablespoons olive oil
~1/4 cup apple cider vinegar
~1 tablespoon dried sage
Herbed Ghee:
~4 tablespoons softened ghee
~1 tablespoon fresh parsley, minced
~1 tablespoon fresh oregano, minced
COOKING:
1). Combine marinade ingredients in small bowl.
2). Place FSC Ranch Beef Flat Iron Steaks and Marinade in food-safe plastic bag; turn steaks to coat. Close bag securely and marinate in refrigerator for 30 minutes.
3). Add wood chunks, chips or pellets to smoker. Preheat smoker to 225°F.
Remove steaks from marinade and throw away marinade.
4). Add steak to smoker. Set timer for 10 to 15 minutes, depending on desired smoke flavor.
5). Meanwhile, combine ghee, parsley and oregano in small bowl. Using parchment paper to hold butter mixture, roll it back and forth to form 2-inch diameter log. Wrap and refrigerate until firm.
6). When steaks are done smoking, carefully remove from smoker.
7). Heat large skillet over medium heat. Place steaks in skillet; cook for about 8 to 11 minutes  until desired doneness. Remove steaks, keep warm. Season with salt and pepper to taste. Serve with Herbed Ghee.
I'd throw in a tossed salad to complete the meal.
Order FSC Ranch Flat Irons Here
We are open Monday – Friday from 8 AM – 6 PM
and Saturday from 9 AM – 5 PM.
Stop by for your steaks, roasts and ground beef!
Interested in purchasing 1/2 an animal, but don't have the freezer space?
Want to have the security of having a set amount of beef to feed your family?
Check out our new Subscription Service. Our subscription service LOCKS IN the price of your beef. With rising beef prices, there is a lot of comfort in that!
See You at the Ranch,

Laurie Bishop
FSC Ranch Beef
2102 Pritchard Rd.
Clayton, NC 27527
919-588-2091
Laurie.Bishop@FredSmithCompany.com