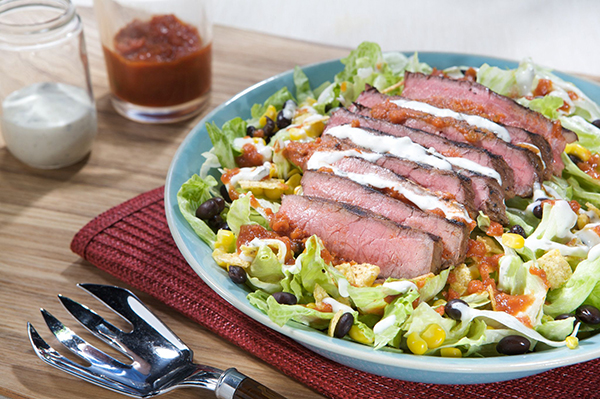 Low Calorie Round Ranch Salad!
290 Calories!
If you are like me and felt it was your patriotic duty this 4th of July weekend to eat as much apple pie, ice cream, chips and dip, and hamburgers as seemed humanly possible, then you will like this LOW calorie recipe. We've put some FSC Ranch Beef Round Steaks in our packages, which we call specials because they are that…special! 🙂
Stop by the ranch today, and see what we've got in stock!
What you need:
1 FSC Ranch Beef Round Steak, (about 1-1/2 pounds)
1 1/3 cup salsa
8 cups chopped iceberg lettuce or pre-packaged iceberg lettuce
1 can (15 ounces) black beans, rinsed, drained
1 cup corn
1/3 cup ranch dressing
1 cup broken tortilla chips
What you need to do:
Place FSC Ranch Beef Round Steak and 1 cup salsa in food-safe plastic bag; turn steak to coat. Close bag securely and marinate in refrigerator 6 hours or as long as overnight, turning occasionally.
Remove steak from marinade; discard marinade. Place steak on grid over medium, ash-covered coals. Grill steak, covered, 12 to 14 minutes (over medium heat on preheated gas grill 16 to 19 minutes) for medium rare (145°F) doneness, turning occasionally. (Do not overcook.)
Meanwhile, combine lettuce, beans and corn in shallow serving bowl; toss. Carve steak into thin slices; arrange on top of salad. Drizzle ranch dressing and 1/3 cup salsa separately over beef. Sprinkle with chips.
Enjoy!
See You at the Ranch,
Laurie Bishop
FSC Ranch Beef
2102 Pritchard Rd.
Clayton, NC 27527
919-588-2091
Laurie.Bishop@FredSmithCompany.com