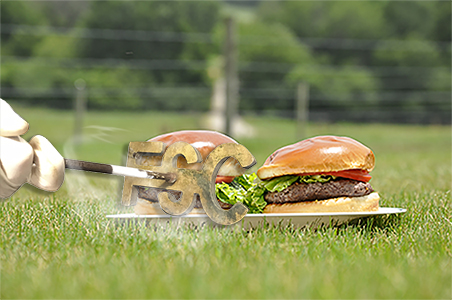 "Herd" about FSC Ranch Beef?
We hope everyone had a wonderful July 4th Weekend!

If you have grilled all of your FSC Ranch Beef over the past week, we would love to help you restock at
Our premium ground beef contains one ingredient and one ingredient only: beef. The pack of beef that you purchase from us comes from one cattle and one cattle only, qualifying it to be called ground beef.
 
What makes FSC Ranch Beef's premium ground beef full of mouth-watering goodness? Steak!
 
Our ground beef includes steak cuts that are ground into our beef resulting in meat that's juicy and packed with steak-heavy flavor.
 
Rest assured, you are getting quality beef when you purchase your ground beef from FSC Ranch Beef.
 
Not only is beef packed with healthy protein, nutritional beef is naturally rich in B vitamins, iron,  zinc and other important nutrients. Beef provides all of the essential amino acids our bodies need to survive. Naturally! So be sure to order your ground beef and patty packs today.
---
---
If you haven't "herd," we will be getting our steaks in at the ranch in approximately two weeks. Whether you buy one pound or ten from us, we consider you a valued customer at FSC Ranch Beef. As a valued customer, you can place your name on a presale list for select steaks. Our steaks will sell quickly, and we want to make sure you have the opportunity to order what you would like.
Here is what we will be getting in:
Briskets ($7.99 per lb.)
Eye of Round Roasts ($8.99 per lb.)
Sirloin Steaks ($9.99 per lb.)
London Broil Top Round Steaks ($9.99 per lb.)
Ribeye Steaks ($16.99 per lb.)
NY Strip Steaks ($16.99 per lb.)
Filet Mignon Tenderloins ($19.99 per lb.)
With FSC Ranch Beef, you are guaranteed premium beef with no antibiotics and no added hormones. Our beef is pasture-raised right here in Johnston County, North Carolina. The above cuts of meat will come from one animal for traceability. Your beef will be USDA inspected in vacuum-sealed packages for convenience and freshness.
These premium cuts will be sold on a first-come basis, so make sure you are on our valued customer list. Once the choice cuts come in, we will notify you by email to coordinate pickup and payment.
For more information, please email us at FSCRanchbeef@fredsmithcompany.com or call Fred Smith 919-422-4092 or Laurie Bishop 919-588-2091.
Happy Grilling!