It's Cold Outside!
Pictured above is customer Jim's Eye of Round that he cooked for his family.
Roasts are the perfect winter meal to warm your belly and fill your home with that wonderful aroma of an FSC Ranch Beef roast slowly cooking in your kitchen!
Here's a simple roast recipe to use after you stop by the ranch and pick up your roast. You can order online too.
Eye of Round Roast Recipe
FSC Ranch Beef Eye of Round Roast approximately 2.5 lbs – depending on the amount of people you're feeding. (1/2 a lb per person is the rule of thumb.)
1 teaspoon of thyme
1 teaspoon of basil
1 teaspoon of oregano
1 teaspoon of garlic
salt and pepper to taste
1 tablespoon cooking oil
3 large carrots
1 large sweet onion
3 pieces of Rosemary (If you have some in your yard, cut off three 3 inch pieces)
You will need a meat thermometer, aluminum foil, and a cast-iron skillet.
Optional: You can also add celery and potatoes.
Pre-heat oven to 325°F
Mix thyme, basil, oregano, garlic, salt and pepper in a small bowl.
Dice onions, and set aside.
Cut carrots into 2 inch pieces, and set aside.
Rinse sprigs of rosemary, and set aside.
In a cast iron skillet, place a tablespoon of cooking oil and heat pan on medium high.
Sear all sides of the roast, and remove roast from pan placing roast on a plate.
Add onions to pan and sauté.
Add carrots to onions and place roast on top after coating with herb mixture from bowl.
Place rosemary on top of roast.
Place skillet in oven and bake at 325°F for 40 minutes (cooking time will vary depending on size of roast).
Using a meat thermometer, check temperature and remove from oven when the desired temperature is reached. (145°F for medium)
Place roast on cutting board and tent with aluminum foil for 15-20 minutes. Carve and enjoy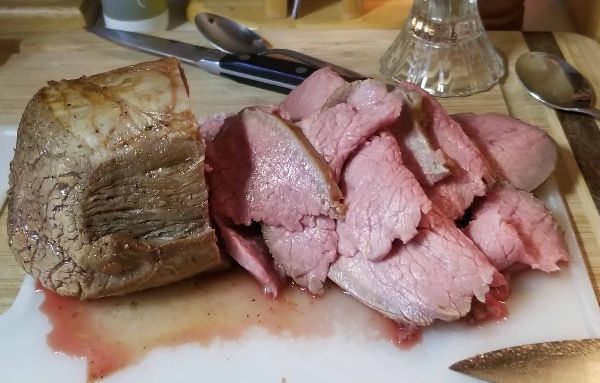 Got a recipe to share? Please send it my way:
Laurie.Bishop@FredSmithCompany.com
We are open Monday – Friday from 8 AM – 6 PM
See You at the Ranch,

Laurie Bishop
FSC Ranch Beef
2102 Pritchard Rd.
Clayton, NC 27527
919-588-2091
Our Beef is Antibiotic-Free, No Added Hormones, Pasture-Raised, USDA Inspected and Approved!