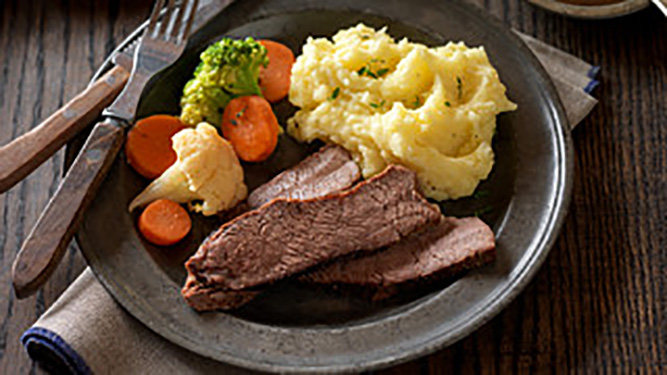 Chuck Roasts
Easy and Delicious!
At only $6.56 per lb., FSC Ranch Beef Chuck Roasts are a great way to feed your family this weekend!
Try this simple recipe.
If you'd like to share your favorite roast recipe, please email me at: Laurie.Bishop@FredSmithCompany.com.
Ingredients:
1 FSC Ranch Beef Chuck Roast (2-3 pounds)
Cooking oil
1 can (14-1/2 ounces) reduced-sodium beef broth, or you can use your own from the beef broth you made last week. If you haven't made it yet, the recipe is here.
1 cup red wine
2 cloves garlic, minced
1 bag of frozen vegetable blend
1 tablespoon chopped fresh thyme
1 pack of instant mashed potatoes
Salt and pepper to taste
Directions:
In a frying pan with a tablespoon of oil, sear all sides of your FSC Ranch Beef Chuck Roast, place roast in crockpot or stovetop stockpot.
Add salt and pepper, broth, wine and garlic to crockpot/stockpot; turn on high for 30 minutes. Reduce heat to low; cook for 2 1/2 to 3 hours until pot roast is fork-tender. If your roast is not fork-tender, then continue cooking for another hour.
Remove roast; place on cutting board and wrap with aluminum foil to keep warm. Turn crockpot or stovetop stockpot on high and place frozen vegetables in pot and cook for 5 minutes turn heat to low for 10 minutes while you make your instant mashed potatoes. Stir in 1 tablespoon thyme in to your vegetables. Season with salt to taste.
Carve pot roast into thin slices; serve with vegetable mixture and mashed potatoes.
Enjoy!
Happy Cooking!
We are open Monday – Friday 8 AM – 6 PM
See You at the Ranch,

Laurie Bishop
FSC Ranch Beef
2102 Pritchard Rd.
Clayton, NC 27527
919-588-2091
Our Beef is Antibiotic-Free, No Added Hormones, Pasture-Raised, USDA Inspected and Approved!