We want you to be ready for Grilling Season!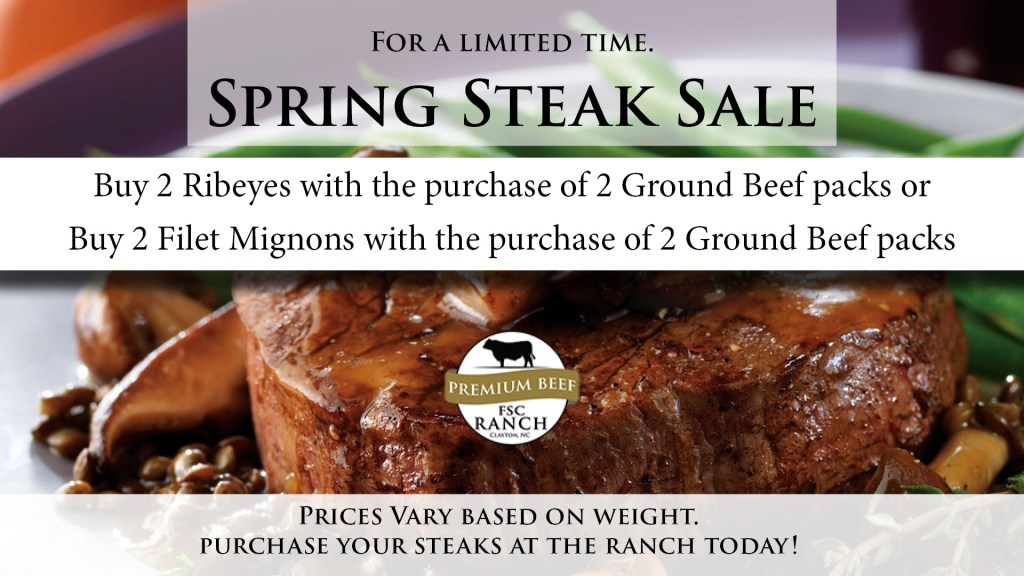 You've asked, and we've listened.

So many people have asked us if they can buy our Ribeyes and Filet Mignons separate from our roasts.

It's grilling season, and because we want you to be prepared, we are offering 2 Ribeyes and 2 Ground Beef packs, or 2 Filet Mignons and 2 Ground Beef packs for a limited time.

The weights vary, so stop by the ranch and pick out your perfect size for Filets or Ribeyes.
You are welcome to order other choice cuts online, but come pick out your own Filets and Ribeyes for our limited time special.
Stop by to pick out your Filets and Ribeyes today.
FSC Ranch
2102 Pritchard Rd.
Clayton, NC 27527
This week, we are open Monday – Friday from 8 AM – 6 PM
and Saturday from 9 AM – 5 PM.
Stop by for your steaks, roasts and ground beef!
See You at the Ranch,

Laurie Bishop
FSC Ranch Beef
2102 Pritchard Rd.
Clayton, NC 27527
919-588-2091
Laurie.Bishop@FredSmithCompany.com