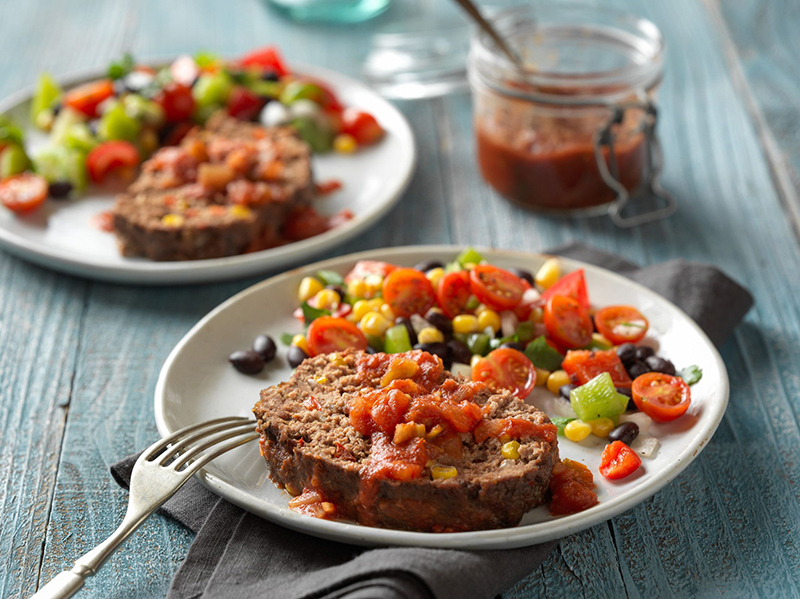 It's Meatloaf Monday!Music inspires me and often finds its way to my kitchen. My daughters bought me a portable speaker last Christmas which I keep on a small shelf that my best friend and her husband made me one other Christmas. When I'm fixing dinner, I use the speaker to motivate me. Monday dinner can be a sluggish task, which is why I'd like to suggest a music pairing with your Meatloaf Monday.
Bat out of Hell was the first album I ever had. The singer on that album is none other than…Meat Loaf! I was given the album as a gift by my mother's friend, a neighbor, on my 13th birthday. I'm pretty sure if I had looked at my mother's face when I tore open the present, it would have held a look of horror. If you've ever look at the album cover or listened to words of some of the songs, you'd understand her parental concern. I cherished that album because I was a teenager, it was my first album ever, and, well, it horrified my mother.
I'm including a link to one of the songs (one of the tame ones from the album) to help you as your craft your fabulous meatloaf for today. You can listen to Meat Loaf while preparing meatloaf!
Now about our ground beef – it's amazing! It's pasture-raised, antibiotic-free beef with no added hormones from one single animal. Because it's from one animal, it's completely traceable. You can rest assured that you are providing healthy beef to feed your family when you purchase FSC Ranch Beef!
Check out this week's meatloaf recipe!
Southwest Meatloaf
(Beef, It's What's for Dinner)
Here's what you need:
2 pounds FSC Ranch Beef Ground Beef
1 cup soft bread crumbs
3/4 cup finely chopped onion
1/2 cup finely chopped red bell pepper
1/2 cup frozen corn, thawed
1/2 cup milk
1 egg
1 teaspoon minced garlic
2 teaspoons salt
1-1/2 teaspoons chili powder
1 teaspoon ground cumin
1/4 teaspoon pepper
1/2 cup thick and chunky salsa
Here's what you need to do:
Heat oven to 350°F. Combine all ingredients in large bowl except salsa, mixing lightly but thoroughly.
Put beef mixture into loaf pan.
Bake in 350°F oven 1-1/4 to 1-1/2 hours, until internal temperature reaches 160°F.
Let stand 10 minutes. Top with salsa; cut into slices.
Enjoy!