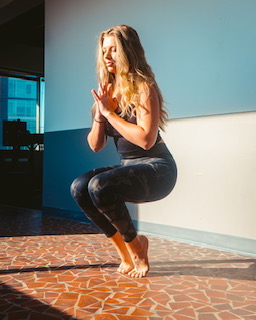 Morgan is a registered yoga teacher with Yoga Alliance. She began practicing yoga in 2013. She focused on mediation and breathing at first, which helped with anxiety and pressures as a new mother. In 2018, Morgan switched from weightlifting to the physical yoga practice. She discovered that moving meditation was profoundly transforming her mind and body.   In July of 2020, she obtained her certification through Pro Power Yoga's 200hr Teacher Training. She received her 95-hour kids yoga teacher certification through Rainbow Kids shortly afterward. Morgan's training has a heavy emphasis on anatomy and creative sequencing.  This gives her the ability to adapt her classes to the level and needs of each student on any given day. Her classes are accessible whether you have never done yoga and/or challenging enough for a seasoned practitioner.  
Morgan will be teaching Yoga Flow at Lionsgate Athletic Club: 
Tuesdays- 9:15am, Tuesdays – 6:15 pm & Thursdays – 6:15pm  
You will focus on matching movements with breath in this class. Movement and breath create a meditative state, allowing practitioners to let go of thought and focus on the present moment. The low impact nature of yoga flow will help you build strength and mobility gradually. During this class, you will learn how to create stability and strength that will work not only in class but in your everyday life as well. All levels can benefit from this class.
Yoga Flow classes will begin May 3rd.