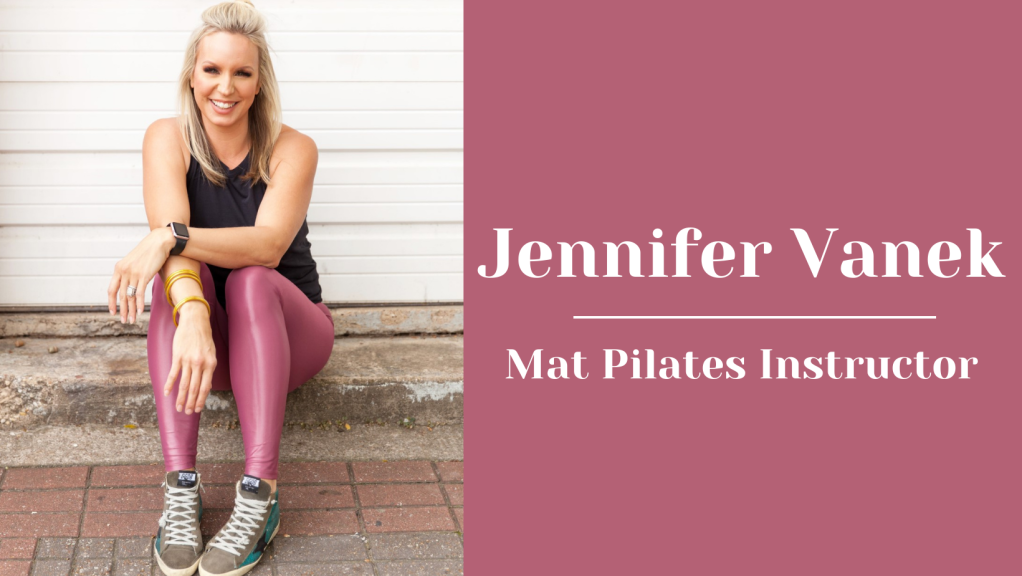 Howdy! I'm Jennifer Vanek, born and raised Texan and newbie to North Carolina. My husband and I, along with our 4 kids and dog, moved across the country from Dallas in January 2022 for a job change. We live in the Riverwood neighborhood and absolutely love it here, especially having weather under 100 degrees.
With a background in digital marketing, sports, and spending many years in high tech, fitness classes were my outlet. When I took my first Mat Pilates class, I knew it was different and I was obsessed. In 2015, I got my Core Mat certification in both beginner and intermediate. I left the corporate world in 2016 to pursue this passion, focus on helping others of all ages, and well-being on their fitness journeys through Pilates and movement.
Over the past 8 years I've taught private, semi-private, and individualized classes at various locations. I currently teach my Dallas clients via Zoom 3 times a week. I am beyond excited to be adding in person Mat Pilates classes back into my schedule.
About My Classes
Mat Pilates is not Yoga. 😊 I love Yoga, but Pilates varies slightly by offering strengthening and lengthening exercise while focusing primarily on your core muscles. It is a low impact workout, but you will still burn calories. Mat Pilates will not only strengthen your core but will tone your entire body and help with stability and balance, as well as overall posture.
In my classes, no class is ever the same. I love to teach a mixture of exercises and work various muscle groups with a focus on overall core strength. I also include stretching, modifications, and will provide items to help with support for the back and neck if needed. The core is the center for all movement and when you have a strong core everything else will fall into place.
My Mat Pilates Class is for EVERY BODY. No matter your age or level of fitness.
Bring a mat and come move with me every Tuesday and Thursday, 10AM at the Riverwood Athletic Club.