JOIN THE MOVEMENT
PURCHASE 3 DOZEN TP5 OR TP5x GOLF BALLS with FREE PERSONALIZATION and GET one more dozen free for a limited time.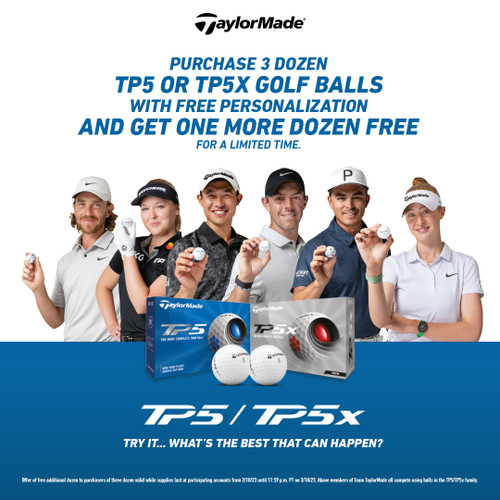 FSC Sports Club Members,

It is that time of year! For a limited time, buy 3 dozen TP5/TP5x TaylorMade golf balls and enjoy a FREE dozen in addition to complimentary personalization with your order.

Click either the TP5 or TP5x link below to begin your interactive personalization experience.
· Personalize TP5 CLICK HERE
· Personalize TP5x CLICK HERE

After you personalize your golf balls, you will be prompted to enter my email address along with your contact information. Upon completion, I will receive your order request.

Keep in mind that this special promotion will only run Feb. 10 through March 10 or while supplies last. We hope you will take advantage of this special promotion as you gear up for another great year of golf.

Thank you,

Daniel Davis
General Manager
FSC Golf Courses

Daniel.Davis@fredsmithcompany.com

Offer valid 2/10/23-3/10/23.
While supplies last. This email and any attachments contain privileged and confidential information intended only for the use of the addressee(s). If you are not an intended recipient of this email, you are hereby notified that any dissemination, copying or use of information within it is strictly prohibited. If you received this email in error or without authorization, please notify us immediately by reply email and permanently delete all copies of the email and any attachments from your system.